Source: Atlanta Business Journal
Every weapon U.S. shopping malls have deployed in the war against e-commerce — movie theaters that serve dinner, hands-on beauty chains and cocktail bars inside department stores — could be rendered useless by the novel coronavirus pandemic.
Malls have been on a long, slow downward spiral for the better part of 15 years as shoppers shifted more of their spending online, bankrupting the stalwarts of American retail and forcing mall owners to look beyond retailers to fill the storefronts in their hulking properties. But the pandemic is a multifaceted threat that has mall owners in free fall, and some experts believe it will be the final death blow to hundreds of shopping malls across the country.
Green Street Advisors LLC, a real estate research firm, estimates that half of mall-based department stores in the U.S. won't survive the pandemic. Beyond a coming wave of retail bankruptcies, the pandemic also has hamstrung the food and entertainment concepts that mall owners and retail developers relied on to drive foot traffic. In short: The Covid-19 crisis has turbocharged the trends already battering the financial viability of the traditional mall.
There are around 1,000 malls in the United States, and Green Street assigns each a specific grade from a real estate investment perspective. Almost 80% of the value of U.S. malls is concentrated in the top 20% of properties — the A-rated malls, said Vince Tibone, senior analyst for Green Street. Just this week, Tennessee-based CBL & Associates Properties Inc., which owns more than 100 malls across the U.S., is preparing to file for bankruptcy, Bloomberg reports, citing people familiar with the matter. The majority of CBL's portfolio is B-class malls.
Retail experts have long underscored the bifurcation of the U.S. mall market, pointing out the wide chasm between the performance of top-rated luxury malls and the B-class properties once anchored by retailers such as Sears and its peers in the middle-market department store category.
But no property is immune to virus-induced economic fallout, and those top-tier malls are struggling, much like their historically weaker peers. Even as malls begin to reopen, operators are left to solve an increasingly challenging equation to return to positive cash flow. Bankrupt apparel chains, capacity limitations on indoor dining and a customer base that has become even more comfortable with online shopping amid coronavirus-induced lockdowns have completely rewritten the math of the mall as we knew it.
"Over the next two to three years, we think market rents in [top-rated] malls could fall nearly 20%," Tibone said. "The reality is there's going to be a mismatch of supply and demand, and that's going to cause rents to come down."
MOVING PARTS
Malls are complex pieces of commercial property; most are more than 1 million square feet of space and support hundreds if not thousands of jobs. What happens within the mall has the potential to shape far more than its own corridors: The retail centers are often a catalyst for ancillary development, from apartments to office space to outparcel restaurants. In the U.S., mall ownership is largely consolidated to a handful of big names including Simon Property Group Inc., Brookfield Properties and Westfield Group.
Location, particularly as it applies to responses to Covid-19, will play a factor in how malls recover from the pandemic, Maloney said.
"In the South where I am, people feel very comfortable going into malls and stores," said Maloney, who is based in Atlanta. "In the Northeast, it's probably a little different. I think it's regionally impacted from that standpoint."
Retailers that have leases up for renewal between now and the end of 2020 have the most leverage to strike a deal, said Nick Shields, consumer sector analyst at Third Bridge Forum in New York.
"Anyone that has a lease coming up in the remainder of 2020 — it will be a pain point for the malls and REITs that own those properties," Shields said.
Pre-pandemic, malls were about five to 10 years out from a reckoning with online shopping, by Green Street's estimate. But the pandemic has accelerated every negative trend malls were facing.
"If our pretty bearish forecast plays out, this would be the painful transition period many malls needed to hopefully return to growth," Tibone said. "There are going to be malls that become obsolete because they don't have the right owner or access to capital to get through this crisis."
This crisis, Tibone says, is looking very different from the Great Recession. He disagrees with the notion that malls were in a strong position coming into the pandemic.
"The mall business, and many of the most prominent malls' tenants, were a lot healthier in [2006-07] prior to the [global financial crisis] than they were in [2018-19] prior to the Covid pandemic," he said. "That is probably the most important distinction, which is going to cause market rents, occupancy and [net operating income] to decline significantly more over the next several years than during the GFC."
Malls throughout the U.S. are falling prey to the same fast-changing dynamics brought on by the rise in online shopping and the unprecedented financial strains of a global pandemic. It's a trickle-down effect that in many instances started with the fall of major anchor tenants and ends with the loss in foot traffic needed to sustain big investments in restaurants and state-of-the-art entertainment spaces.
---
THE ANCHOR STORES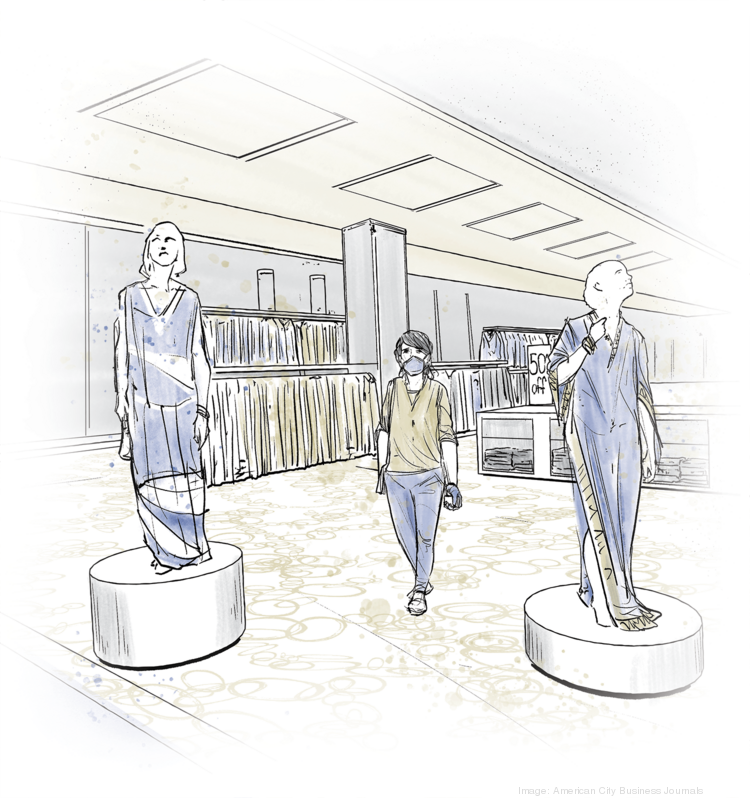 The multistory department stores that have anchored malls for decades were in trouble before the coronavirus pandemic — and the pandemic has only exacerbated those retailers' problems.
Dark department stores have ripple effects across the mall in more ways than declining foot traffic. While every lease is structured differently, many mall tenants' leases includes co-tenancy clauses that allow the tenants to pay less rent if an anchor tenant leaves the mall.
"We expect it to be a big issue," said Tibone of Green Street. "Every mall and every lease can be a little different, but in general, a co-tenancy clause is triggered if there are two anchor vacancies at a mall."
The malls most at risk, Tibone said, are those that are home to JCPenney and already have a dark Sears box. Tibone stressed that while every lease is different, the general rule of thumb is that retailers could pay 30% less rent once a co-tenancy clause is triggered. In some cases, the retailer will pay lower base rent and a higher percentage of sales.
"When it's a permanent closure and you have two at a given mall, the economics deteriorate quickly," he said.
JLL's Maloney contends most mall owners were already prepared for dark anchor boxes — especially those that were home to a Sears — before the pandemic.
 "Every single developer that had a big box had a plan to enact should they get that space back through a bankruptcy," he said.
---
THE DINING EXPERIENCE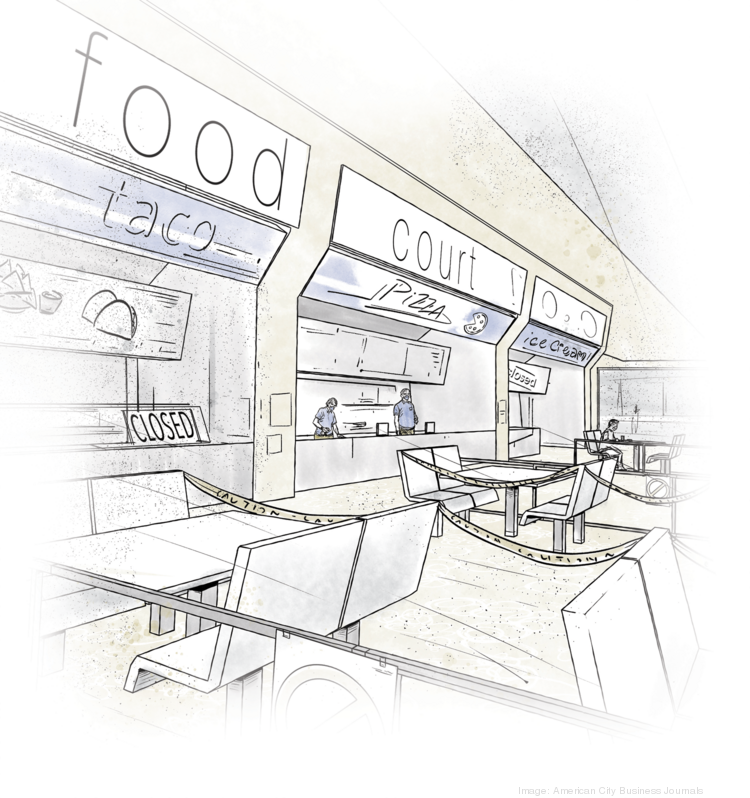 As e-commerce took more and more market share from brick-and-mortar retailers, mall owners began looking for tenants that couldn't be replaced by the internet. Restaurant rows are the norm at most U.S. malls, and chains with massive footprints like Cheesecake Factory and Brio Tuscan Grille began eating up retail space.
Year-to-date restaurant sales were down 17% in May compared to the same timeframe in 2019, according to Green Street Advisors.
In the long term, food and beverage concepts are still winners for malls, Tibone said. But those concepts are in for a short-term struggle.
"I still think food, beverage and entertainment and a slow shift away from apparel will be long-term and important trends," he said. "But in the next 12 to 18 months, it's going to be a fight for survival."
Problems will arise, Tibone said, for mall owners who don't have the capital to help restaurants make it through the downturn.
"For landlords, it's in your best interest to keep tenants alive and hopefully get them to the other side," he said. "If you lose a restaurant now, it's not like you're going to have another lined up behind them, and then there's the capital costs associated with redoing them."
---
THE INLINE TENANTS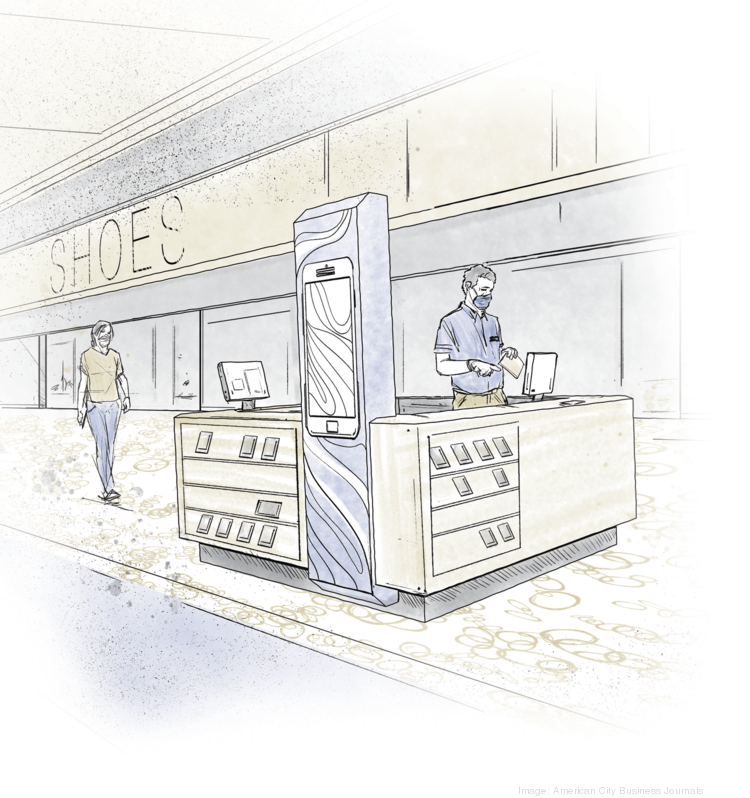 Like their big-box counterparts that anchor the mall, the small shops on the interior of the mall have been challenged for years. Fast-fashion giant Forever 21 filed for bankruptcy in September; mall-based mainstays like Charlotte Russe and Wet Seal have struggled amid store closures and changes in ownership.
But the pandemic is accelerating problems that were easier for landlords to handle at a slower pace, Tibone said.
"You're pulling forward a lot of issues that would have most likely played out slowly, which is more beneficial to the landlord," Tibone said of the pandemic. "They have time to deal with it."
J. Crew declared bankruptcy early in the pandemic. Brooks Brothers is one of the more-recent big names to fall, filing for bankruptcy July 8.
In early June, Simon Property Group sued Gap for missing nearly $66 million in rent payments.
JLL's Maloney said most issues over mall rents are in the apparel space. "We just really don't know with some of these large nationals what their plans are."
Beauty stores like Sephora — once thought of as e-commerce-proof because of their hands-on model — may also be challenged by changing consumer behavior after the pandemic, Tibone said.
"People thought these categories were internet-resistant," he said. "If e-commerce was 10% of sales before Covid and goes up to 30% during Covid, it probably goes back down to 15 to 20% after — and what does that mean for the ability to pay rent or open new stores?"
---
THE ENTERTAINMENT COMPLEX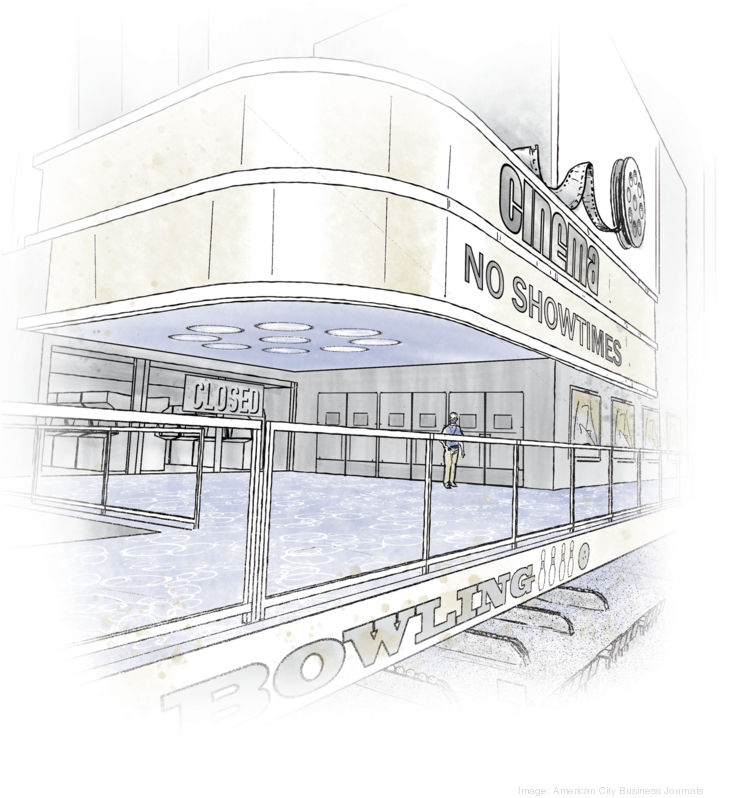 Pre-pandemic, many mall owners were turning to entertainment concepts as new anchors — movie theaters, bowling alleys and adult arcades that can't be replicated online and draw regular foot traffic to the properties.
Now, many of those concepts are bankrupt or teetering on the brink, and it's not clear when consumers might feel comfortable heading back to high-touch, close-proximity businesses.
Many malls have dine-in luxury theaters that were built within the last 10 years, and if they don't make it through the pandemic, those buildings could already be obsolete.
"A movie theater is very difficult and expensive to re-tenant with the sloped floors," Tibone said. "It's very expensive to do something with that real estate."
Maloney said that entertainment concepts eventually will be back in demand. He compares the dynamic to flying after the terrorist attacks of 9/11.
"We're all watching it, and we also know that whatever that key point is — whether it's that we got a vaccination or when the worry starts to subside — we think everybody will have a short memory just like any other situation in the past," Maloney said. "To use 9/11 as an example — after that, nobody wanted to fly again."