ICONIC MENSWEAR RETAIL ENTERPRISE BEGINS ITS 57TH YEAR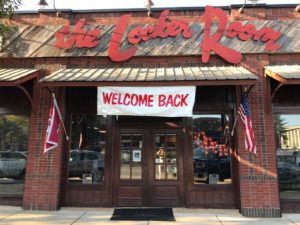 Alex Gatewood opened the Locker Room in Tuscaloosa October 28, 1964

Tuscaloosa, AL   The Locker Room, a traditional menswear retail enterprise that coined the term 'Elephantwear' and made Gameday wear a national fashion trend, celebrates its 57th year in business on October 28th. The 7000 SF store located at 2104 University Boulevard in Tuscaloosa, is owned, and operated by Alex Gatewood who at 79, continues to set the pace for his "less seasoned" employees.
October 28, 1964 was a day Alex Gatewood will never forget. At the age of 23, he and a group of University of Alabama fraternity boys moved boxes of khakis, button downs, leather loafers, blazers and belts into what is now Surin on University Boulevard. Eventually, a red wood 1890's farmhouse 2 blocks away became available and where the Locker Room operated successfully for 51 years.
For decades Gatewood has hired UA students to sell, stack, fold and greet – laying claim to the first job for most of these new hires. Years later, Alex maintains strong relationships with his former associates, many of whom have earned great success in their own careers. Almost all joined him to celebrate the 50th Anniversary of the Locker Room.

In the store's 57 year history, 'Mr. Alex' has been visited by hundreds of thousands of customers – fiercely loyal locals, Alabama football faithful and everyone in between. Three generations have made it their tradition to shop the store, made evident when grandfathers arrive proudly escorting freshman grandsons requesting counsel on an apparel choice. For the grandfathers, it is less about the clothing and more about the prized family introduction to "Mr. Alex".
Over the 57 years, The Locker Room enterprise has successfully navigated economic downturns, shifts in fashion trends, an attempted ecommerce coup, a CVS property takeover and now, a pandemic. Through diligence, perseverance, and sheer grit – Alex Gatewood continues to provide the public with a level of service that is rare but welcome.  In a time where nothing feels certain, it is in the familiar surrounds of a small men's clothier that tradition finds its greatest appreciation and where the "new normal" is shunned like a polyester suit.
www.locker-room.biz      (205) 752-2990